New Ingredient Blend Lanconone® Clinically Proven to Provide Improve Joint Comfort
"Lanconone® has gained the claim of being the 'World's first clinically-proven botanical ingredient for rapid joint pain relief comparable to Ibuprofen.' Therefore, applications are vast across the sports and fitness sectors, and for high-intensity training and athletes," – Amol Pathak, Director Business and Strategy at Enovate Biolife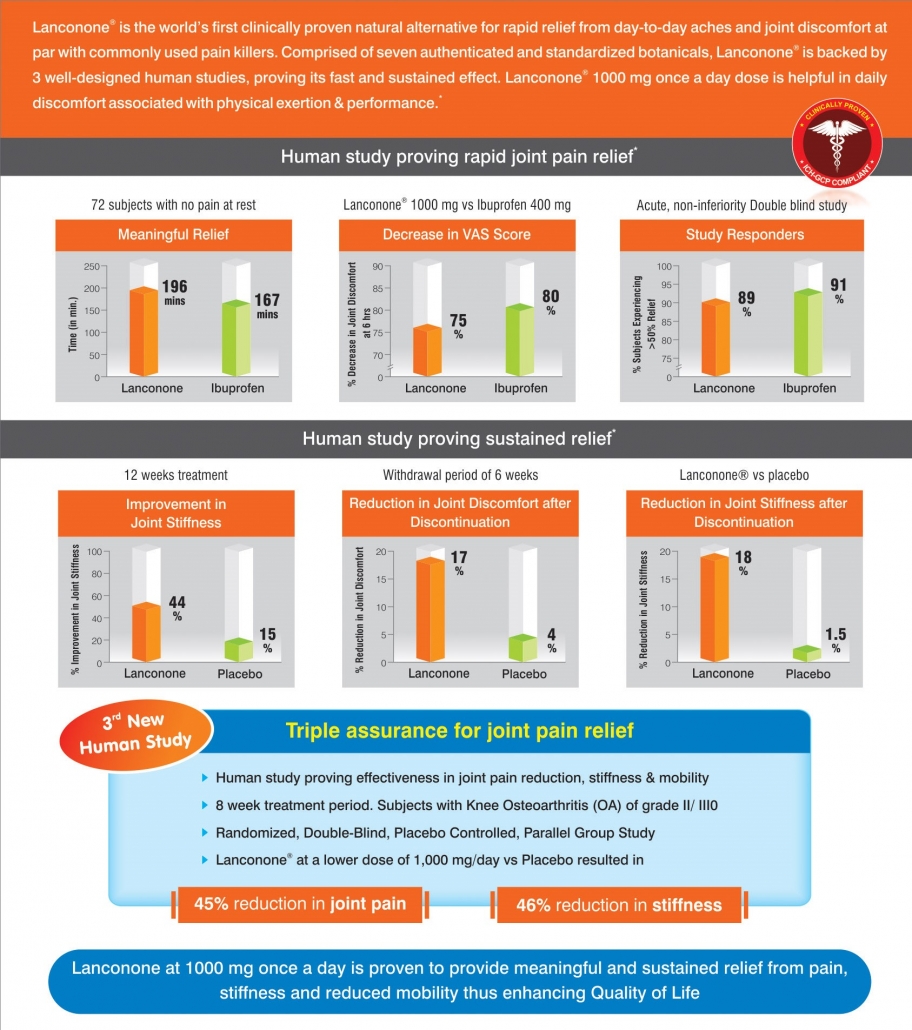 Traditionally, joint and knee pain has been treated using NSAIDs (Non-steroidal anti-inflammatory drugs) like Ibuprofen, Advil, Naproxen etc. 
However, NSAIDs are known to increase the risk of gastrointestinal bleeding, heart attack & strokes. 
The US FDA has issued multiple warnings for NSAIDs, causing people with joint conditions like osteoarthritis to search for joint pain relief supplements without significant side effects. 
Unfortunately, until now, there were no natural alternatives known to provide rapid pain relief like NSAIDs. 
At Enovate Biolife, we pride ourselves on innovation and science. Read this article to learn more about our proprietary botanical complex, Lanconone®, which improves joint health and flexibility without any side effects. 
Lanconone® & Its Key Benefits
Lanconone® is the world's first clinically proven natural alternative for rapid pain relief from day-to-day aches and pains. Lanconone® is at par with Ibuprofen and is backed by three well-designed, human studies. A 1000 mg dose once a day is useful in providing fast relief from joint pain and stiffness associated with physical exertion and performance in healthy individuals.
*Higher doses are not recommended. 
The proprietary botanical complex has demonstrated meaningful pain relief within 196 minutes of consumption, as compared to Ibuprofen 400mg, which took around 167 minutes for significant joint pain management.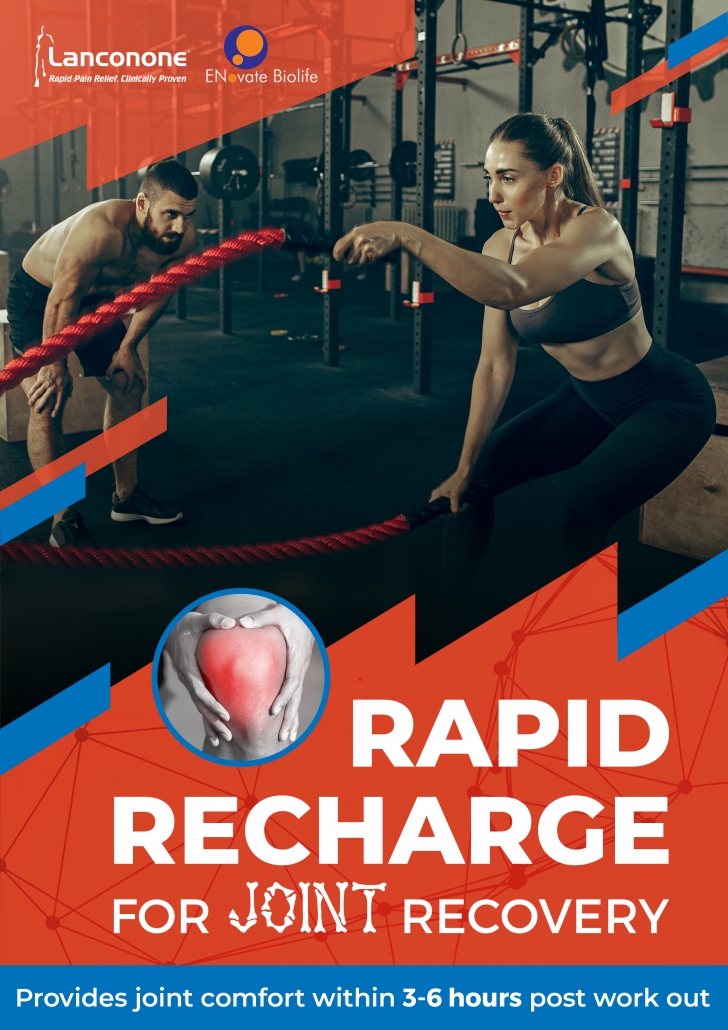 The Development of Lanconone®
Lanconone® is a proprietary blend containing extracts derived from Commiphora Mukul, Boswellia serrata, Withania Somnifera, Oroxylum Indicum, Smilax china, Pluchea Lanceolata, Zingiber Officinale. 
Selecting authentic species is crucial for desired efficacy. Each plant has its own unique set of challenges. Based on requirements for particular plants, selective tests including barcoding macroscopy, microscopy and testing by HPTLC and HPLC are used for identification. 
The ingredient blend of Lanconone® has a vast body of scientific data about their benefits. They ensure improved quality of life, improved mobility, high treatment satisfaction scores & continuing efficacy even after treatment is stopped (up to 6 weeks post supplementation).
Clinically Proven Health Benefits
Lanconone® currently has three published human studies. A quick summary of the three reports is given below:
Study 1:
Efficacy and Safety of E-OA-07 in Moderate to Severe Symptoms of Osteoarthritis: A Double-Blind Randomized Placebo-Controlled Study published in the American Journal of Therapeutics.
This study was conducted on 16 subjects, who were administered two capsules of either Lanconone® or Placebo for 12 weeks.

Lanconone® showed a 46% improvement in joint pain compared to 19% with Placebo. Lanconone® also showed a 44% improvement in joint stiffness compared to 15% with Placebo.

More importantly, subjects also reported an improvement in joint pain and stiffness for six weeks after discontinuing Lanconone®. 
Study 2: 
A clinical trial comparing Lanconone® with Ibuprofen for rapid relief in acute joint pain; published in Trials journal. 
Seventy-two otherwise healthy subjects with mild to moderate joint pain on exertion were administered 1000mg Lanconone® & 400mg Ibuprofen. 

Uphill walking was provided as a stressor at 0.5, 1, 2, 3, 4, 5 and 6 hours. For every time point, pain scores were recorded 5-10 mins after uphill walking. 

The double stopwatch method was used to evaluate the onset of pain relief and time taken to meaningful pain relief. 

Lanconone® provided significant pain relief in 196.59 mins, whereas Ibuprofen showed meaningful pain relief in 167.13 mins. In 6 hours, 88.9% of Lanconone® subjects experienced ≥ 50% pain relief. 
Study 3: 
Triple assurance for joint pain relief: A Double-Blind Randomized Placebo-Controlled Study
A human study was conducted to prove the effectiveness of joint pain reduction, stiffness and mobility

Subjects with Knee Osteoarthritis (OA) of grade II and III were monitored over an eight week treatment period

These subjects were administered Lanconone® at a lower dose of 1,000 mg/day as compared to Placebo

Lanconone® resulted in a 45% reduction in joint pain and a 46% reduction in stiffness; thereby enhancing the overall quality of life by providing meaningful and sustained relief from joint pain and stiffness. 

Lanconone®

group showed almost 50% higher 'Self-Assessment of Treatment' (SAT) scores at the end of the study as compared to placebo. Lanconone® bettered QoL by reducing pain intensity, which in turn raised the treatment satisfaction of study participants.
The above three studies prove that Lanconone® is beneficial for both acute and chronic applications. 
Source: A clinical trial comparing Lanconone® with ibuprofen for rapid relief in acute joint pain

Target Audience of Lanconone®
This health supplement for joint pain relief is aimed at active adults, athletes and gym-goers performing high-intensity training like HIIT and CrossFit. It is also suitable for weekend warriors and the elderly with underlying conditions like osteoarthritis. Since the effect of Lanconone® can be experienced on the same day, it can assist athletes in recovering from joint pain and stiffness after heavy training.
Lanconone® works by itself and together with other joint health ingredients, such as glucosamine and chondroitin, for superior joint comfort. 
Applications:
A natural and safe alternative to NSAIDs for joint pain

Helpful in easing joint pain and stiffness associated with physical exertion and performance

Aids in improving joint mobility and flexibility in active adults 

One of a kind ingredient with a proven sustained effect

May slow down degenerative joint changes and

osteoarthritis

arthritis (OA)

in older adults in addition to reducing pain
Quality Certifications:
To prove its authenticity, consistent quality, price and supply, this proprietary botanical complex has various quality certifications:
Botanical ID verified

Health Canada approved

ISO 22000:2005

Halal & Kosher

Non-GMO (tested)

Allergen declaration

HACCP

US DSHEA compliant 
Lanconone® is currently available in North America, Canada & select Asian markets like Malaysia. For more information contact info@enovatebiolife.com.
What are you waiting for? Invest in the World's 1st clinically-proven botanical ingredient for rapid pain relief which starts acting in 3 hours and is  comparable to Ibuprofen. Add the missing ingredient to your product and life now.
Frequently Asked Questions:
#1 – What is the USP of this ingredient?
Lanconone® is a natural, clinically proven rapid as well as a sustained joint pain reliever – like NSAIDs, without any of the side effects. Its safety is established, it is US DSHEA compliant & Health Canada approved with its own Health Canada NPN number. Lanconone® also shows improvement in joint flexibility and provides effective and meaningful joint pain relief. 
#2 – What is the serving size/cost & application possibilities of this ingredient?
The recommended serving size for Lanconone® is 1,000mg. Lanconone® can also be used with tablets, capsules and powders. 
#3 – What is the stability & toxicity data available for Lanconone®?
Lanconone® has both accelerated and real-time stability data to support its shelf life of 3 years. Safety is the cornerstone of this ingredient, and safety data are available for Lanconone as a blend as well as each of its individual components.