Things You Need to Know About Wonder Ingredient; RedNite®
The health benefits of beetroot have been known to humans for centuries. Several cultures have enjoyed beetroot juice due to its stimulating properties, and ongoing research has proven it to be a valuable source of dietary nitrates as compared to other vegetables.
It has been proven that beetroot nitrates can:
Increase exercise performance & tolerance
Boost stamina & endurance in athletes
Maintain brain health and cardiovascular health
At Enovate Biolife, Beetroot has a special space in our hearts. Read ahead to find out more about the innovation of our beetroot nitrate supplement; RedNite®.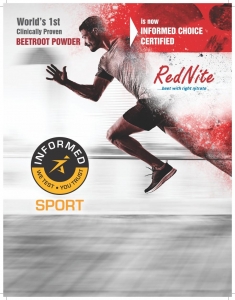 The Birth of RedNite®
It took four years for Enovate Biolife to develop, research & launch RedNite®.
Why? Because of the precautions that came with it.
Firstly, the nitrate variations in beetroots made it challenging to achieve a standardized source of beetroot nitrates. The nitrate levels varied significantly due to the variety of seeds, ergonomic practices and climatic conditions.
The limit for safe nitrate consumption according to the European Foods Safety Authority is around 3.7mg nitrates/kg body weight per day. This precaution had to be taken into account as well.
The need for a mild-tasting, stable beetroot powder with standardized nitrates and antioxidants was imperative.
Thus, RedNite® was born.
What Is RedNite®?
RedNite® is the first fresh beetroot powder which is clinically proven to improve muscle firing rates in resistance-trained athletes, enhance neuromuscular efficiency, reduce fatigue & boost stamina and endurance. Beetroot nitrate has been proven to help widen blood vessels and maintain healthy blood pressure. It delivers enhanced nitrate content in products to maintain optimal health and increase energy naturally. This dietary nitrate converted into nitric oxide once consumed, also reduces the amount of oxygen needed by muscles during physical activity.
RedNite® contains 1.5% – 2.75% natural nitrate and is entirely water-soluble. Its characteristic features include a dark red color and pleasant taste with mild sweetness. Another plus point, RedNite® is devoid of harmful nitrites and synthetic nitrates.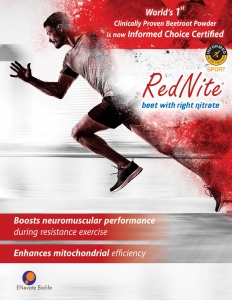 How Is RedNite® Made?
RedNite® is carefully created using the following steps:
Beetroot is grown with a specific, consistent seed variety under controlled farming conditions to ensure no bolting of red beets
Fresh beetroot is processed within 24 hours from harvesting under low temperatures to provide the best color and actives in RedNite®.
At Enovate Biolife, we ensure our RedNite® is extracted from the fresh farm juice of beetroot using solvent-free extraction. RedNite® is water-soluble for convenient use in beverage, dry mixes; a powdered form is available for sachet formulations.
We have also increased customer satisfaction over the years by offering stable supply, consistent quality, stable pricing & a consistent product in terms of standardized nitrates. We ensure the serving size is between 500 mg to 3 grams. The dose is much lower for chewable products like sports bars, lozenges, functional foods, etc.
Suitability of RedNite®
RedNite® is ideal for formulas within the pre-workout, high-intensity exercises, recovery, energy, vitality & performance categories. It also has proven benefits in healthy blood flow and circulation and enhancing exercise performance.
As a viable source of nitrate, beetroots hold great potential for combating age-related cognitive decline. It is the dietary supplement of choice for healthy aging of the brain.
This dietary nitrate supplementation improves:
Pre-workout and recovery stimulation
Energy, vitality, and performance
Healthy blood circulation
Advantages of RedNite®
RedNite® offers many advantages to formulators and supplement manufacturers. Some of the vital benefits are given below: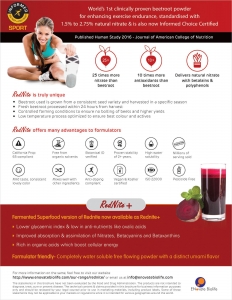 Clinically Proven Health Benefits
Groundbreaking Clinical Study on a RedNite® Formula in USA*
Double-blind placebo-controlled cross over trial conducted by researchers at Ohio State University, USA.
Recently, a study was undertaken to prove the benefits of beetroot nitrates in highly trained athletes using a smaller serving size.
Resistance trained men consumed a nitrate-rich supplement bar (containing RedNite®) for three days and then performed intense workouts. After a ten-day washout period, they repeated the procedure with a similar bar without RedNite® (cross over study).
Before, during, and after exercise, the motor unit efficiency was assessed during muscle contractions. Motor units are nerve-muscle combinations that control movements during sport & exercise. Heart rate & oxygen consumption were also determined.
Findings
Nitrate rich RedNite® (NR) supplementation resulted in increased mean peak EMG amplitude and lower motor unit firing rates. These findings suggest NR supplementation improves neuromuscular efficiency of force produced on, especially during fatigue.
RedNite® enriched bar also significantly lowered oxygen consumption during exercise without impacting heart rate, which can improve stamina.
*The effects of Nitrate-Rich Supplementation on Neuromuscular Efficiency during Heavy Resistance Exercise
Flanagan et al. J Am Coll Nutr. 35(2):100-7, 2016
Quality Certifications:
To prove its authenticity, consistent quality, price, and supply, this acute dietary nitrate supplementation has an array of certifications:
ISO 22000:2005
Vegan Certificate
Kosher & Halal
Non-Allergen Statement
Gluten Certificate
Non-GMO
Pesticide Report
BSE Statement
HACCP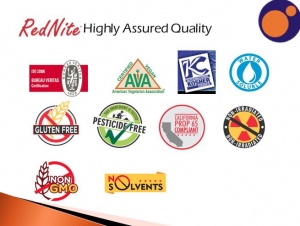 RedNite® is currently available in North America, Europe & select Asian markets, for more information contact info@enovatebiolife.com.
We encourage you to give your body the best of beetroot. With antioxidant power, ten times that of raw beet, RedNite® is a must for all sports and fitness enthusiasts and brands.
Add the missing ingredient to your product now.